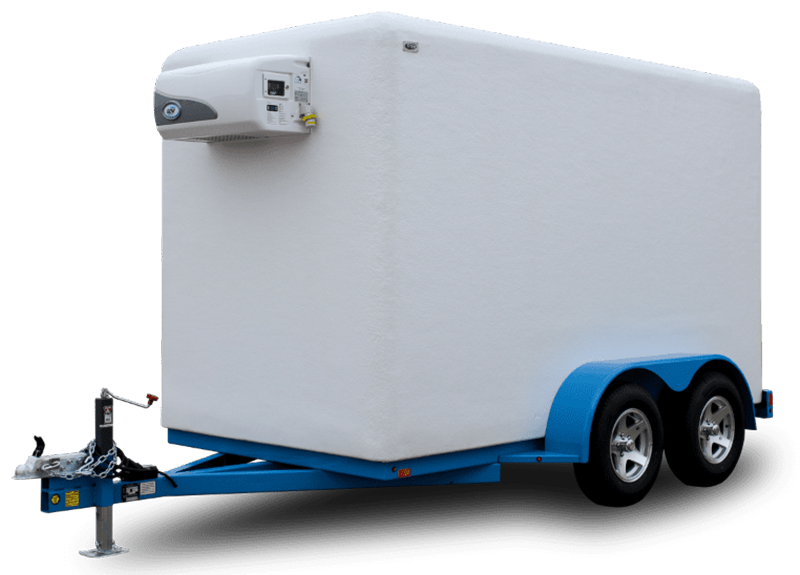 Refrigerated Trailer Sales in Ohio
On demand refrigeration done right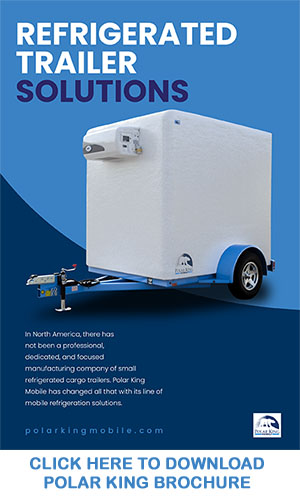 Polar King mobile refrigerated trailers are not sold directly to the public. Instead, they are sold through the best trailer distributors from North America to create a national network of dealers. Just In Time Coolers is proud to be chosen by Polar King to be one of the select companies to represent their refrigerated trailer sales.
Polar King Mobile trailers are constructed with a seamless fiberglass design and are available in three standard models, 6'x8', 6'x12', and 6'x16'. Each trailer features 54-inch reinforced doors, four-inch walls, and a pallet duty floor. The actual cooling of the trailer is achieved using a GOVI Arktik 2000US series refrigeration unit. These compact units provide a temperature range of 0°F to 50°F, are all electric and require only 110V and 15 amps.
Polar King Mobile trailers are designed and engineered specifically for outdoor use. The patented process for constructing the one-piece structure Polar King walk-in refrigerated trailers incorporates urethane insulation completely encased in fiberglass, both inside and out. There are no seams, and the structure remains completely intact so air and moisture will not deteriorate the insulation.
We are here to assist you with the purchase of your new mobile cooler 440-653-5431.